Upfront, permit me to state I have no special interest or connection Max Velocity Tactical. I do have a vested interest in being part of the cadre of American's who take their God given inalienable rights to arms to heart, and choose to become trained in the art of small unit infantry tactics, the basis of all land combat. A vested interest in standing for my family, tribe, community of people around me, and our Republic. To do so it was necessary to become as proficient, fit, and prepared, in exercising my natural rights, and in defense of them.
4 years ago I made the trip to Max's training compound, where I was enlighten and trained in ways I never know possible. It was a life paradigm. The unknowns and the great unknown unknowns where dispelled, revealed as the crux of combat and survival of it, but most of all it was the great empowerment Max provided with straight up no bullshit concepts, tactics, procedures. It was about not only surviving but thriving, and winning.  The foundation of the warrior mindset.
Recently I attended Max's combat handgun course called Defensive Concealed Handgun a truly unique class not only in defensive use of concealed inside the pants carry handguns, but the mindset and the best weapon you own, your head. I came away yet again a changed man.
I can not exemplify nor stress adequately this train is the most critical element in your kit. With this training it is no longer the weapon which counts, but you yourself become the weapon. And none of it, not a single thing about this train is anything but the basis, the roots, of combat and surviving it, winning at it.
Sure the weapons matter, indeed, as it ends up you become ones own force multiplier. Best of all these elements carry over into almost every facet in your life. It is holistic, it is truly empowerment, the rifle in your hands become an extension of the whole, again about the best weapon of all, your mind.
I hope to soon take part in a variety of other advanced classes in the offering this fall, which I have no doubt are of higher caliber through experience the whole idea of civilian combat training. They certainly do look like the exact progression in training Max talks about to enhance the basics I have learned previously.
Max elaborates on the Warrior Mindset in this series of well written posts:  The Warrior Mindset and Training Progression
If you ever have entertained the prospect of live fire actual small unit combat training, you won't go wrong. The costs are far far exceeded by the value, if anything they are the finest investment possible. The fun factor is off the charts. The experience of being in combat with others is a glimpse into the brotherhood of warriors.
This great Republic was built on the fact, the truth of common people having God given rights to arms and their purpose of defending one's liberty & life. From all evils come what they be. This is our legacy, our liberty and our happiness, the guarantee of it. And it only comes from ourselves. It begins with each of us, and only us. No State or government, no potentate, king, mandarin, dictator, president or dog catcher, the whole lot of them, create or defend liberty. That only comes from us. become Legion, join The honorable Resistance. Arm thy heart & mind.
Assaulting a bunker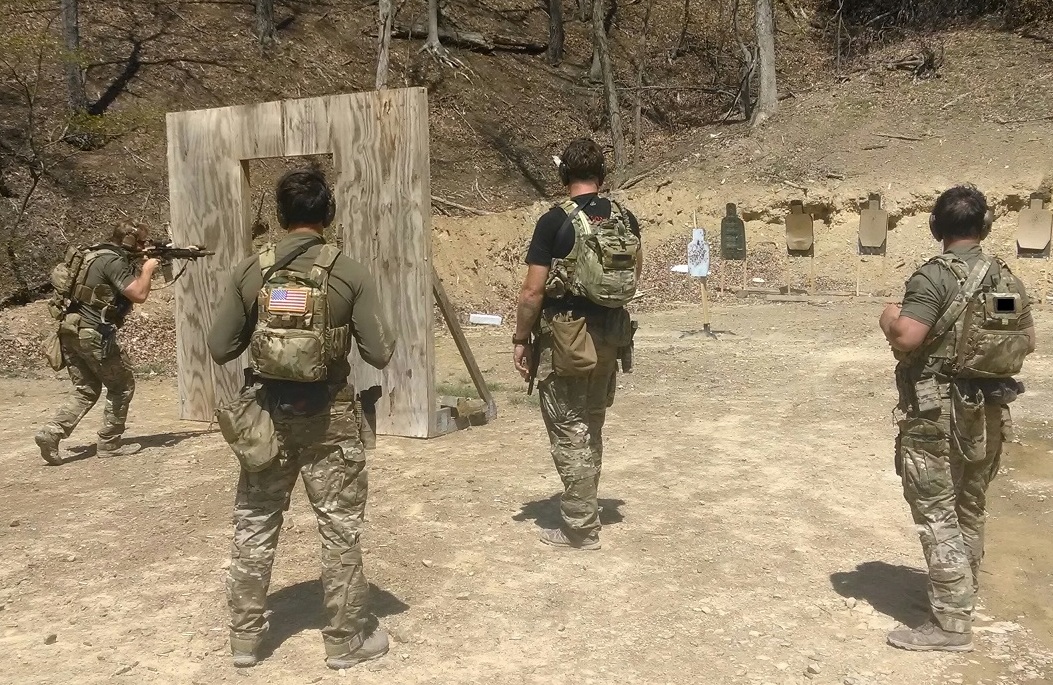 There was a time when I would write educational blog posts several times a week. I realize that has changed, and those who made the MVT blog a daily reading stop have been disappointed in recent years. I simply have not had the time, with changing priorities. I had not written any books since I published Patriot Rising several years ago, and I have been working on the 'MVT Tactical Manual: Small Unit Tactics', which I published in March. There is nothing really that I could write in a blog post that is probably not covered in the Manual, except peripheral topics, and of course we have the MVT Forum where discussion, questions and clarification take place. I also have a new writing project planned, which is a series of tactical novels, which are not 'prepper' based, but more along the lines of tactical adventure books. That will also take up my time.
Among all that, serious work has been ongoing at the Velocity Training Center, Romney WV. We have a Long Range Marksmanship class ongoing this weekend on the 1000 yard '3 Ridges' range. As students said, the photos on the website do not do it justice, and in fact on Friday a whole lot more work went into cutting trees, which is an ongoing improvement. In fact, the range is not just a rifle range, but a Multi-Purpose Machine-Gun Range! Last week we had some US Army Special Operations Forces in doing some training, and we are also taking their recommendations on improvements to the site. The tactical and raid ranges have been improved, and the latest project is to build a 270 degree live fire shoot house on the lower flat range. All this to say;  the VTC is the focus of MVT training operations, the better it gets the better we are able to bring you a higher quality training experience. This training facility is unique and unsurpassed for training in Small Unit Tactics. Thus, the VTC is now a destination for training more than it ever was – mobile classes cannot compete, and thus I will be doing far less of them, primarily running Texas classes in February each year.
The improvements over time to the facility, the class offerings, and the introduction of standard class fitness prerequisites have tightened up the student body, making for even safer classes with greater learning opportunities. So much so, that after-class AARs often see comments where students expected to be yelled at more, which is always a surprise. The secret is, when you have well thought out ranges and training POI, when you have students who are at a basic fitness and competence level, there are far fewer safety worries, students can think better and get their head out of their ass, and there is barely any yelling, except for commands over rifle fire. When I think back to five years ago and my first two-day class offering, I shudder. We needed to do, and have done, far better. The venture to unreservedly train the American public in legitimate small unit tactics (SUT) was also a learning curve for myself – and we are still doing it and doing it way better.
In order to pull some alumni back in to the changes to the curriculum and the advances to the facility, we are scheduling a couple of cheap 'alumni live fire' weekends. The first one is over Memorial Weekend (26-27 May) , the next one is 4 – 5 August. Check out the training calendar for class dates. If you are a CTT alumni, you are eligible. We will be moving thick and fast from rehearsals to doing a whole bunch on the tactical ranges, including some of the newer curriculum. Fitness prerequisites apply. CRCD no longer counts – if the last class you did was CRCD, and you want to get back on the page, I simply suggest booking a HEAT 1 class, which has superseded the more recent CTT.
Tactical Manual Description:
This Tactical Manual (TM) is the result of more than a quarter century of experience at the highest professional levels, based on a solid foundation of SOF selection and training, reinforced by deployments to multiple conflict zones spanning pre-9/11 and the current Global War On Terror. The contents of the TM are combat proven and time tested small unit tactics employed on Light Infantry, Special Operations and Paramilitary deployments.
The TM is intended to support training and operations for small tactical units. The TM utilizes a number of sources, including United States and British Army doctrine, mixed with training and operational best practices and lessons learned. The TTPs laid out are ideal for special operations, light infantry and paramilitary tactical organizations, based on proven tactical principles.
Max Velocity Tactical operates the Velocity Training Center (VTC) tactical and leadership training facility near to Romney, West Virginia, where we provide training for US Special Operations Forces and Responsible Citizens. MVT has established a reputation on the leading edge of tactical live fire and force on force training; we are dedicated to developing tactical excellence.
---